For Immediate Release
For Additional Information Contact: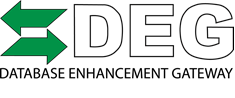 Danny Gredinberg
admin@degweb.org
(302) 423-0207
Database Enhancement Gateway Recognizes industry leader PPG for continued support and sponsorship
Colorado Springs, Colorado, April, 24th 2018 – The Database Enhance Gateway (DEG) recognizes industry partner PPG as the longest-standing platinum sponsor of the online industry resource for five years and counting. The ongoing financial contributions from PPG, and continued support extended to the DEG team help to allow all industry professionals with access to utilize the free service. The DEG accepts submissions from estimating system end-users, who have questions about potential errors, omissions and inaccuracies found within collision industry estimating programs. This service is especially helpful to users seeking a resolution to address labor times, missing parts information and clarification to estimating programs. DEG works directly with representatives of the information providers to address the inquiry and resolve issues in a timely fashion. With nearly twelve thousand (12,000) inquiries to date, the DEG has a proven track record in successfully address
ing industry-generated concerns that result in changes to the estimate database. In addition to inquiry processing, the DEG publishes a weekly Estimator Tip that is accessible for free to everyone on our website https://degweb.org . This is also distributed thru the SCRS and AASP. You can sign up to be part of mailing list from SCRS by emailing Info@scrs.com
"PPG has been a longtime supporter of DEG because we believe in standing behind solutions that bring meaningful value to the industry," Shares Domenic Brusco, Sr. Manager, Industry Relations at PPG. "With a history of support that extends to many different trade organizations, it's really important that PPG supports resources that we feel confident can help customers in their business. The DEG has proven its effectiveness in seeking answers that help improve the estimate quality, and this positively impacts our customers as they construct their repair orders."
"PPG has many shop clients who utilize this service from the DEG, and who have expressed the positive value they receive from the initiative."
End-users who identify questions or issues relative to the estimating databases, or who are looking for more estimating resources, are encouraged to visit https://degweb.org for assistance.
####
For more information about the DEG or if you have an inquiry regarding estimating data, please visit www.degweb.org.
DEG
About the Database Enhancement Gateway (DEG): The DEG is an initiative designed to help improve the information in collision repair estimates through proactive feedback about vehicle-specific errors, omissions and inaccuracies in the database and labor times. With support and funding from the Alliance of Automotive Service Providers (AASP), Society of Collision Repairs (SCRS) and other industry organizations, the DEG can provide its services free of charge to the industry. For more information on the DEG please visit www.degweb.org or email admin@degweb.org.
ABOUT PPG: WE PROTECT AND BEAUTIFY THE WORLD™
At PPG (NYSE:PPG), we work every day to develop and deliver the paints, coatings and materials that our customers have trusted for more than 130 years. Through dedication and creativity, we solve our customers' biggest challenges, collaborating closely to find the right path forward. With headquarters in Pittsburgh, we operate and innovate in more than 70 countries and reported net sales of $14.8 billion in 2017. We serve customers in construction, consumer products, industrial and transportation markets and aftermarkets. To learn more, visit www.ppg.com.
We protect and beautify the world is a trademark and the PPG Logo is a registered trademark of PPG Industries Ohio, Inc.